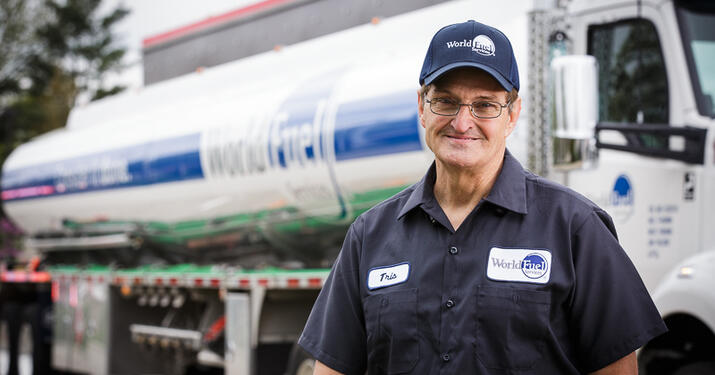 Bulk Fuel Delivery Services
If the success day hinges on bulk fuel deliveries function – put your trust in a distributor that specializes in the local delivery and storage of over 20 billion gallons of premium diesel, gasoline, kerosene, and biofuels world-wide.
Worry-free fuel delivery to your business
Whatever your Diesel, Gasoil, Biodiesel, Biogas, Propane, Heating Oil and LNG requirements, we have the experience and breadth of supply to keep your business running.

We combine quality petroleum products with flexible, worry-free supply. Put simply, we deliver the fuel you need, where and when you need it, on time, and in full.
Quality fuel products, outstanding service
Through our extensive international fuel network, we're now fueling more clients, in more countries and territories than ever before. In some regions you may know by the name of one of the companies who have become part of World Kinect Energy Services since our formation. But what is common amongst all of our operations is our commitment to quality petroleum products and outstanding customer service.
A complete supply and procurement offer
In addition to seamless liquid fuel supplies, through World Kinect Energy Services unique range of supply and procurement solutions, we can offer a complete energy solution for your business, and help you buy better and buy smarter.
Ask about Emergency Fuel and Equipment
We can help make sure you have the fuel and backup power needed to keep operating ... before the next natural disaster or large national emergency.
Outstanding customer care, expertise and seamless delivery service make World Kinect Energy Services an industry-leading bulk fuel supplier.  Reach out to us today.   
Discover More
Offering a full spectrum of quality petroleum products, World Fuel Services is your complete energy resource.