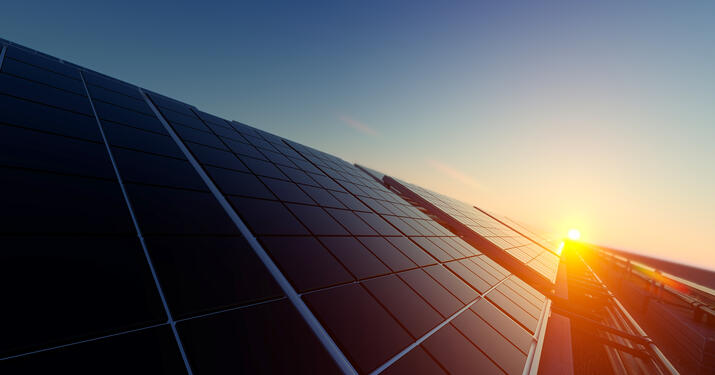 Renewable Electricity - On-Site and Off-Site Investment
Did you know that you can access solar energy at costs less than electricity from your utility?
Cost-effective renewable on-site solar energy
Declining costs, more flexible financing, and climate-friendly country, state and local policies are accelerating investments in solar energy by corporations, both large and small. You can participate in economic solar projects that meet your sustainability goals, regardless of whether your operations are in regulated or deregulated markets.
Benefits of on-site solar
Facilities with ample roof or ground space available should strongly consider an on-site solar project to meet some their electricity demand.  Benefits include: 
• Investment tax credits and capital allowances

• Federal accelerated depreciation

• 25 year warranted asset life

• Additional state, regional and local incentives available

• Zero capital development options through Power Purchase Agreements (PPAs)
Utilize our Client Representative Development model
• High-level site assessment for solar PV, including preliminary layout designs and production estimates

• Competitive bidding and management of the selection process

• Financial and energy modelling of on-site renewable systems
Virtual Power Purchase Agreements (VPPA)
Take advantage of the more favorable economics of larger, off-site renewable energy projects.  World Kinect Energy Services assists you in finding the best off-site solar and wind projects to meet your requirements. We specialize in Virtual Power Purchase Agreements (VPPA). We have a portfolio of over 100,000 MW of near-term VPPA projects and are always evaluating new ones. VPPAs require no up-front investment, terms as short as 10 years, and low fixed pricing that can yield significant economic value for your organization.
We may also be retained to provide post-contracting services including carbon accounting, RECs and IRECs management services, and verification of project production and invoicing.
Turnkey off-site renewable project management
Our off-site solar and wind services leverage our deep electric market and risk management experience and include:
Client advisory to establish goals and objectives
 
Project identification and analysis to meet client objectives
 

Financial analysis
 
Risk Assessment
 
Environmental Value Assessment: carbon reduction benefits
 

Evaluation of investment and financing options
 
Contract negotiation to secure the most favorable terms for you
Why World Kinect Energy Services?
Our clients choose us for the measurable value we deliver to them:
Large and growing pool of VPPA projects give us access to best pricing
Market insight through daily contact with developers
Expert application of analytical skills and experience to better analyze and assess all the risk factors
Deep industry, market and regulatory knowledge
Featured Articles
Although Electric Vehicle (EV) sales have surged in 2019 globally, the numbers remain low in the context of overall new car registrations.